---
We write about products and services that we use. This page may contain affiliate links for which we receive a commission.
---
That's the question every parent with more than 2 kids wants to know!
Gone are the days when you could pack 5 kids in the rear of a wood-paneled station wagon.
Today's new car seat laws make it harder to fit 3 kids in a large sedan.
Here's how this pregnant momma plans to get all 3 kids in the back of a Toyota, along with car seat resources to help you plan…
I buy Britax.
I've tried a bunch of car seats, and I think Britax offers the best in stability and comfort.
Those seats don't move an inch!
However, this safety commitment doesn't work well for 3 kids. Not in a row, and not in the back of a Toyota! I tried.
Here's what I'm planning to do:
The Big Kid's Seat: Our 6-year old will have to leave his 5-point-harness Britax Regent/Husky in the garage. A backless booster seat won't take up nearly as much room, and his little sister can climb over it when exiting the car. (Still thinking about the Radian 5-point seat…see below.)

The Middle Kid's Seat: The 2-year-old is currently in a Britax Roundabout, forward facing. We'll move her seat to the middle and hope she doesn't pinch the new baby too much!

The Baby's Seat: #3 will be in another Britax Roundabout, rear-facing, on the driver's side of the car. There won't be an inch of extra space between seats, but I should be able to strap the baby with ease when unlocking the car doors.
What, no infant carrier seat?
I gave up the Graco Snug Ride. The rear-facing Roundabout (mentioned above) offers just as much angle and coziness, without the back-breaking load. A Maya Wrap sling gets the baby from car to store and back without waking…most of the time.
Can you fasten a booster seatbelt with so many car seats together?
Are there slimmer car seats instead?
To date, there's only 1 skinny 5-point carseat that holds kids to 80 pounds (the weight required by law). The Radian 80 is helping big families fit 3 kids across the back of a standard mini-van.
It's not cheap: about $220. Of course this pales in comparison to the cost of buying the next bigger vehicle!

Here's a review of the Sunshine Kids Radian 80 from Consumer Search.
Reports Of Cars That Hold 3 Car Seats via Car-seat.org: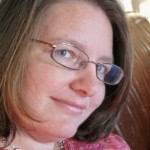 I'm a wife, mom of 4, and resident of Brentwood, Tennessee. I love finding fun new things for my family to see and do in Brentwood and the Nashville area! In addition to writing about Brentwood, I also spent a year blogging at The Fun Times Guide about my pregnancy with baby #3.