This post may contain affiliate links. If you buy thru these links, we may earn a commission at no additional cost to you.
---
I decided to get into cycling with my 2-1/2 year old as another way to get out of the house and explore the greenways in our area.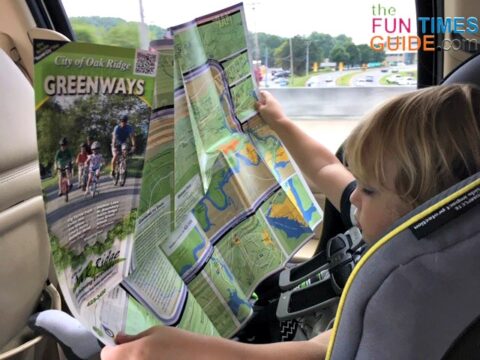 My son is definitely interested in riding a bike, but he just can't quite grasp the concept of pedaling on his own yet. He currently has a balance bike, a tricycle, and 12-inch bike with training wheels (which he enjoys sitting on and pushing forward with his feet on the ground).
I needed something to get us going on the greenways until he could pedal on his own.
I thought I'd share my research that got us to our current set-up so I could go cycling with my toddler — and how we chose the best toddler bike seat for our needs. We have an older, gently used road bike with a rear-mounted child bike seat.
Cycling can be quite expensive to get into, so it was a goal of mine to do the whole project on a tight budget. I kept track of everything I purchased — to see what the true cost of the initial investment was.
How To Choose A Bike For Yourself
There are so many types of bicycles to choose from — such as mountain bikes, road bikes, commuter bikes and even electric bikes. And the prices vary quite substantially.
The most important piece of advice I can recommend is to go to your local bicycle shop and ask them to help direct you to which type of bike is right for you. This way, you can determine the type of bike and the size of bike you'll need — based on the style of riding you plan to do.
There is a whole other world of bicycles, cycling gear, and accessories that I didn't even know existed! Bike shops are generally filled with knowledgeable and passionate staff members who are dedicated to cycling.
It's a great place to start when it comes to getting answers to your questions.
If your budget requires you to purchase a used bicycle, here is a very helpful article: 5 Essential Tips For Buying A Used Bike.
How I Chose My Bike
We have a fair amount of inclines around here in East Tennessee, so I knew that a regular Huffy bike from Walmart wasn't going to get the job done.
I started by visiting a local bicycle shop and asking a lot of questions.
I knew that I needed a bicycle with gears that would help me get the job done. I had a Huffy beach cruiser before I had my son, but I sold it because it was absolutely worthless to ride on the inclines around here — not to mention, it was quite heavy.
I wanted a higher-end road bike without the higher end price tag — so I knew that I would have to buy used.
The best resource I found to determine if a used bike was a good buy or not was a site called Bicycle Blue Book. (I didn't even know there was such a thing.) This site proved to be a great tool for negotiations with potential sellers!
I searched mostly on Facebook Marketplace and my local Craigslist for used bikes for sale. I knew the general size and type of bike I wanted — so I looked daily to try and find a really good deal.
Each time I found a bike that I was remotely interested in, I would look in the Bicycle Blue Book to see if the asking price was in the ballpark of the actual current value.
My goal was to find a lightweight bike with a minimum of 8 speeds and the highest retail value for approximately $100. This was quite time-consuming. And when I did find a bike that I was interested in, it would sell before I could even get to see it. (It turns out there are other people watching for the same great deals on higher end bikes!)
So I finally found a bike that was still available and met my criteria. It was a 2012 Scott Metrix 40 Solution which retailed at $520 back in its day and I could get it for $100 — which was $30 under the Bicycle Blue Book current value.
I liked the color and the style. Plus it had a lightweight, aluminum frame and fork, with 700c wheels. I thought this bike would allow me to ride farther and more comfortably than some generic bike from Walmart for the same $100. Plus, this Scott bike had an easy-pedaling 8-speed, 24-gear Shimano drivetrain to help conquer the inclines without having to jump off and push.
Since I was buying a used bike, I wanted to make sure that it wasn't stolen. So, when it came time to actually purchase the bike, I entered the serial number into Bike Registry — which is an International database to track stolen bikes.
This particular Scott bike did not show up in any stolen bike reports. So, after a thorough inspection and pedaling down the street with it to make sure it work… I bought the bike!
TIP: If you have a friend who knows anything about bikes, I would recommend you bring them along for a second set of eyes when you're buying a used bike. I really had no idea if I was buying a lemon or not. In hindsight, I should have had the seller meet me at a bike shop — so I could have the bike inspected by the experts before purchasing. It doesn't remain a great deal if you end up having costly repairs.
Since I'm brand new to bicycling with multiple gears, I realized that I should probably have the bike serviced by a local bike shop first — especially since it had been sitting for years in storage.
Plus, I didn't know anything about the bike I just bought, nor did I know how to shift up or down. I knew that the bike shop staff could help me get used to my new bicycle.
TIP: Another important thing to consider when purchasing a used bike is the cost of a tune-up — especially if the bike needs one. My local bike shop wanted $100 to go over the entire bicycle, make adjustments, true the wheels, adjust the bearings, clean and lube the chain, etc. Plus, I had them install a water bottle holder. The total bill for all of that was $125, including tax.
So now I was in this for a total of $225. (But at least the bike shop adjusted my seat height and bar levers for my optimum riding position when I picked it up!)
Apparently, the Scott Metrix is not very popular here in North America — because I didn't find any for sale when I expanded my search for one in the entire USA, for a quick comparison. But it's a very popular road bike in the UK and India. I guess I found a unicorn — but I really felt it was the best bang for my buck as an entry level bike.
How To Choose A Rear Child Bike Seat Attachment
Next, I had to decide how I wanted to haul my toddler around.
I really didn't want to do a bicycle trailer. I just felt like it would be one more big item taking up space in the garage when we weren't using it. Not to mention… one more big item to have to transport to the greenways each time we went riding!
My girlfriend uses a bicycle trailer for her son — and she loves it. But I wanted to just throw my bike in the back of the SUV and not have to worry about also fitting a bike trailer in the car too.
Growing up, I remember my mom and dad would haul my brother and I around town on the back of their 10-speed bicycles in child bike seats. So I thought the best option for right now would be to shop around for a used rear-mounted child bike seat on Facebook Marketplace — to stay within budget.
Of course, I wanted the best high-end seat for my son for the least amount of money. I managed to score a Thule Yepp Maxi toddler bike seat for $30! (It normally retails for $249.)
Why I Like The Thule Yepp Maxi Child Bike Seat
Since I bought mine used, it was missing some mounting hardware — which I had to order directly from Thule. (That cost me an additional $30, with the shipping.)
Based on my research and the obvious availability, the Yepp Maxi rear child seat was definitely the best choice for us.
It's a first choice seat among families who cycle. Plus, it made multiple Top 10 lists for rear-mounted child bike seats.
I like that it offers a comfortable and safe ride for my son when we're cycling together.
The Thule Yepp Maxi features I like best:
This toddler bike seat is just over 8 lbs — so it's relatively lightweight.
The seat is made from a molded, rigid (yet flexible) rubber — so it absorbs some of the road vibration.

It has a secure 5-point harness — to keep my son safe and secure in his seat.

There are protective edges on the footrests — in the event of a crash.
The adjustable foot straps — ensure that my most precious cargo is secure.

The Thule Yepp Maxi rear child bike seat mounts quite easily and securely to the frame of the bike (on the seatpost) — which is best for larger and taller children.

Not that I'll be doing much night riding, but there are reflectors in the back — to help keep us visible.
It's built to hold kids up to 49 lbs — but I imagine my son will be riding his own bike before then.
Here is my video showing how I prepare for bike trips with my toddler, plus a few more things I like about the Thule Yepp Maxi rear-facing child seat:
Thule Yepp Maxi Rear-Mounted Child Bike Seat Review
Alternatives To Rear Child Bike Seats
If you're not comfortable with having your child on the bike with you, there are a few other options that I also looked at — and may possibly consider as our cycling journey continues.
#1 – Weehoo bike trailers
These are not your typical enclosed bike trailers.
A Weehoo bike trailer is basically a seat on a single inline wheel that is pulled behind the bicycle.
They have different options — such as single and double seats, as well as optional pedaling and storage.
If I can find one used, this would be my first choice for a tow-behind bicycle trailer — because I like the open concept.
#2 – Other bike trailers
Thule or Burley would be my first choice on this type of bike trailer — simply because I have seen them in person at my local bike shop. And they are designed to perform significantly better by pulling smoothly, compared to their lower-end competitors. (I should hope so with their $300 to $1,100 price tags!)
Here is a great comparison between the 2 brands: Thule vs. Burley Comparison Chart
Again, if I can find a used one of Facebook Marketplace, I would seriously consider trying either one — based on their foldability and stroller conversion options.
#3 – WeeRide Co-Pilot bike trailers 
The WeeRide Co-Pilot is basically a partial bike with pedals, handlebars, and a rear wheel that is towed behind the adult bike.
It's really neat — because it allows your child to pedal along or just enjoy the ride.
I just didn't feel we were quite there yet — because my son just barely fits a 12-inch bicycle right now, and they don't make WeeRide trailers that small. WeeRides are generally 20-inch bikes.
#4 – Trail Gator tow bar 
This bicycle tow bar converts a child's bike into a safe, towable bike trailer by stabilizing the child's handlebars.
The only thing I don't really like is that I would have no way to secure my kid being towed behind me.
Cycling Accessories I Purchased
I wanted to set a good example for my son and get him in the habit of always wearing a helmet while cycling — so we needed to purchase some bike helmets. I decided to purchase new bike helmets instead of buying used.
We took a trip to Dick's Sporting Goods and Walmart  — to actually try on various helmets and make sure we got the right fit for both of us.
I managed to find a Giro Revel bike helmet for me and a Captain America helmet for my son:
These are the other cycling accessories I purchased:
The Bottom Line
Here is the tally if you, too, want to get started cycling with your toddler on the cheap:
1 used road bike: $100
1 used child bike seat, plus missing hardware: $60
1 bike tune-up and 1 water bottle holder installation: $125
2 new bike helmets: $48
1 new insulated water bottle: $8
1 new gel seat cover: $20
1 new frame bag: $20
1 used bike rack: $20
Total: $401
As they say in the MasterCard commercials, the time spent making memories with my son outside of the house… priceless!
A few other accessories to consider:
I already had a bike lock from my previous bike — so I didn't have to worry about adding that to the cost.
I may also add a bike mirror on the handlebar grip — so I can see behind me.
I may possibly add a bike bell — to alert people that I'm coming up behind them.
I'm sure there will be more things as we get some miles under our belt.
I still can't believe that I was able to get both of us into a cycling set-up for around $400 — considering this will provide countless hours (and miles) of entertainment in the great outdoors on all of the surrounding greenways.
I love cycling the trails as a way to get out of the house while spending time exploring nature with my son. The freedom is exhilarating. I can totally see why cyclists are addicted to the sport.
The most epic thing about this entire journey has been watching the enjoyment my son gets every time we saddle up on the bike!
My Thoughts About Electric Bikes…
I managed to peak my husband's and stepson's interest in joining me on a bicycle outing recently by telling them there were a couple RadRover electric bikes for rent at Outdoor Adventure Rentals in Oak Ridge, TN.
If you're unfamiliar with the RadRover electric bikes by RadPower, you definitely need to check out their website. I certainly didn't know much about electric throttle and pedal-assist bicycles before seeing the RadRover in person. It definitely caught my eye — because it's an absolute beast of a bicycle with its fat 4-inch tire stance!
Everything about the RadRover electric bike intrigued me enough to go home and study the brand — especially since we could actually rent them and test them out before buying one.
So… my husband rented the 2 RadRovers for an hour, and we all (my husband, my stepson, and myself — with my 2-year-old son in the bike seat on back of my Scott bike) went riding on the greenways.
We had fun swapping out the 3 bikes and taking turns riding each one. And we had an absolute blast testing out the pedal-assist and throttle features — including some off-path experimentation.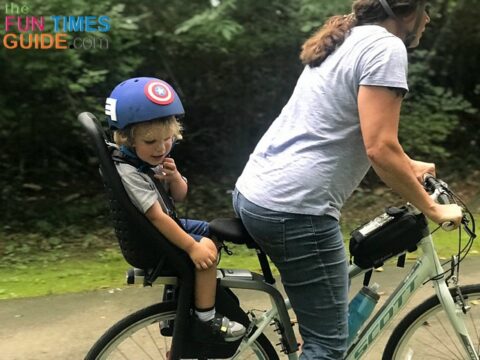 A few notes about RadRover electric bikes:
The RadRover climbs inclines with absolute ease and removes any unwanted physical exertion. (No more "huffing it up the hill!")
You can actually use the RadRover electric bike with zero pedal assist — if you still want to get physical exercise.
Even though this electric bike weighs 65 lbs, the weight is pretty much a non-factor in trying to pedal — because of the electric boost that's available.
You would definitely need to invest in a hitch bike rack though — because I imagine the RadRover would be quite cumbersome to load in the bed of a truck.
I'm excited that my husband is considering buying an electric bike! I would absolutely love to have him join us on more of our bicycling greenway adventures.
My husband is a motorcycle enthusiast — but at this stage of our life with a 2-year-old, cycling may just become our new thing. He appreciates the fact that cycling is something we can do as a family, and it's a good way to enjoy some physical activity in the great outdoors.
We can travel farther on bicycles on the greenways and trails than we ever could on foot — so we'd be able to see more of the outdoors than we would normally travel to.
I'm a new mom. I work from home and I write — mostly about my outdoor adventures, DIY projects, newly discovered products, and helpful tips as a first-time mom. I also like to share details about the alternative choices I'm exploring as I enjoy this journey called motherhood. My family includes a toddler, 2 stepchildren, 1 dog, 1 cat, and a wonderful husband. My pre-pregnancy life was full of freedom and adventure, so I have a fresh new perspective when it comes to walking away from a career to become a full time stay-at-home Mama.