This post may contain affiliate links. If you buy thru these links, we may earn a commission at no additional cost to you.
---
It's not hard to find books and information that focus on how the expectant dad can help the mother of his child through the pregnancy.
But finding useful information for Dad, himself, isn't quite as simple.
Just like mothers-to-be, expectant fathers also need information, reassurance, and advice during the various stages of pregnancy and the baby's first year of life.
Following are some of the best resources for first-time fathers…
10 Best Websites For Dads-To-Be
Websites come and go, but these have been around for awhile for a reason — because they're well-respected for their advice and ideas for new dads!
#1 – Great Dad is an online parenting resource with a dad's point of view. As they say, "because dads don't always think like moms." This site is full of articles that will help the father-to-be through issues like stages of pregnancy, paternity leave, fatherhood fears, and tips for enjoying sex during pregnancy.  There are lots of resources and recommendations, as well as a Great Dad Forums where expectant dads can communicate with each other and Daddy Blogs filled with fun info from a dad's point-of-view.

#2 – Babycenter has a section for expectant dads that's quite popular.  There is lots of helpful information including cheat sheets for dads-to-be, fears that expectant fathers experience, and so much more.  The fatherhood tips are great!  (The UK version is just as useful — it's called Becoming A Dad.)
#3 – Fathers' Forum is another good online resource for new and expectant dads.  This forum is led by Dr. Bruce Linton.  This site provides a handful of good resources, however, there is less online interaction than you might think from a 'forum'.  There are a few articles and some fathering links of interest that are worth a look.
#4 – Mr. Dad gives advice on all kinds of questions that first-time dads tend to ask.  The FAQ For Expectant Fathers is the most helpful part of the site.
#5 – Baby Corner has a section just for new dads.  You can read about issues such as midnight snacks, paternity leave, the delivery room, and sympathy pains.
#6 – What To Expect… For Dad is a blog from the folks behind the popular pregnancy books that started it all with What To Expect When You're Expecting, also known as the pregnancy bible.  (Psst!… a similar version for dads is What To Expect When You're Wife's Expanding.)  Their section for new fathers is filled with helpful advice and a month-by-month guide to pregnancy.
#7 – Life As A Dad gives you a good idea of what you can expect from the moment the baby is born. This dad tells it like it is!
#8 – His Boys Can Swim is a dad's pregnancy guide. It's a hilarious twist on the weekly stages of pregnancy that most people are familiar with.  This one, from a dad's perspective, helps guys better understand the size of their baby week-by-week.
#9 – Dads Adventure has great tips for new dads and dads-to-be with the aim of helping you be the best dad ever. It's a wonderful source of support for new fathers.
#10 – The Scared Dad a newly married, former Marine, soon-to-be-father shares his candid view of pregnancy with other first-time fathers.
Here's a great list of the Top 25 Daddy Blogs and another list of 29 Great Dad Blogs — which focus more on "the daily life of dads in general" rather than on tips & tricks for new dads.
10 Best Books For New Dads
The following books give first-time dads comfort and camaraderie from a guy's perspective.
A new father's take on pregnancy and the baby's first year is often quite different from a new mother's.  These books help all the pieces of the puzzle to fall into place more easily right after your baby is born — all the way through the baby's first year.
Not only will these books be a lifesaver for new dads (and new moms), chances are you will find them worthy of passing on to other new fathers as well.
I've ranked these books in terms of the most helpful — without being too basic, sarcastic, or heavy on the dude-speak:
#1 – A Dude's Guide To Babies: The New Dad's Playbook
Filled with an abundance of firsthand advice and ideas from dads who've been there and learned a thing or two about being a first-time dad.  It's positive and motivating… and entertaining as well.
Written with the perfect combination of wit, humor and practical advice.  It's an insightful book from a dad who tells it like it is!
#3 – Be Prepared: A Practical Handbook For New Dads
This book is filled with helpful advice for getting through the day-to-day challenges of raising your first child.  All of the how-to's are covered, as well as some tricks of the trade that only a dad would understand.
#4 – The Baby Owners Manual: Operating Instructions, Troubleshooting Tips & First-Year Maintenance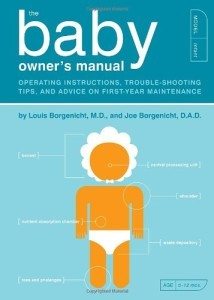 The perfect combination of both serious and funny — written completely in the form of charts and diagrams.  It's a helpful guide book, as well as a useful tool for keeping track of your baby's activities.  There's no personal or witty advice, just practical facts that will apply to every baby… and every parent.
#5 – Oh Boy You're Having A Girl: A Dad's Survival Guide To Raising Daughters
Written by a father of 3 girls, this book helps you love the color pink and all the unique experiences that come with raising girls.
#6 – The Joy Of Fatherhood: The First 12 Months
This book covers everything you can expect to happen during your baby's first year, month-by-month, from a dad's point of view.  It has lots of checklists and helpful tips that first-time fathers (and mothers) will appreciate.
#7 – Show Dad How
The folks at Parenting magazine have put together a terrific how-to guide for new parents.  Dad (and mom) will benefit from the helpful visuals and step-by-step tutorials.  The book includes 156 things that every new parent needs to know how to do.
#8 – The New Father: A Dad's Guide To The First Year
This book is filled with a little less humor than the other books, and a little more hands-on practical advice.  There's a chapter devoted to each month of your baby's first year and the new & exciting things that you can expect during those times.
#9 – Dad's Pregnant Too
Based on the experiences of other first-time dads (and moms).  It's as if you're re-living the fears, questions, and unknowns that others have had — only you have their outcomes and advice to base your own experiences on!
#10 – First Time Dad: The Stuff You Really Need To Know
This book is deeper than others in that it's more relationship based — helping you find ways to enhance your bond with your wife and child.  It's warmly written and covers the joys, as well as the difficulties of being a new dad.
I have been a certified tightwad since I became pregnant with my first child and decided to find a way to stay home with him. I enjoy sharing my experiences in my journey back to financial health and planning for a future — which will include sending 2 kids to college and early retirement.