This post may contain affiliate links. If you buy thru these links, we may earn a commission at no additional cost to you.
---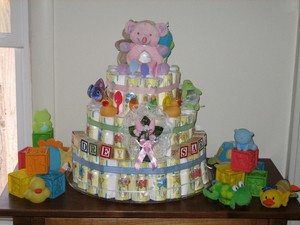 What the heck is a diaper cake?
A diaper cake is actually a cake-shaped arrangement of baby diapers.
Diaper cakes are typically given as gifts to new parents at baby showers, or they're personally delivered to the new parents at the hospital or at home.
A baby diaper cake is made from disposable diapers that are put together in the shape of a layered cake. Inside these layers (and on the outside) baby gifts are attached. Often,  cascading silk flowers adorn the outside of diaper cakes, along with a fun topper to make it look more like a cake.
You can either make your own diaper cakes, or buy them online.
Following are some tips for making your own baby diaper cakes, plus a few places to order diaper cakes online and have them delivered...
Why Diaper Cakes Are A Good Idea
One of the advantages to giving new parents a diaper cake is the fact that it's a gift they will actually use!
A baby diaper cake is a great alternative to gift baskets or flowers.
It's also a fun way to show some creativity and give the new mom a gift that's not typical and store-bought. A diaper cake is something that you create with your own hands, so it will mean even more to the recipient.

Plus, if you and the others who are participating in the baby shower are strapped for cash, everyone can donate a small gift and some disposable diapers and then make the diaper cake together, as a group project!
Pick A Theme For Your Diaper Cake
If you decide to make your own diaper cake, the first thing you want to do is come up with a theme for the newborn baby's diaper cake.
For example, some people choose a sports theme  — especially if the parents are sports enthusiasts. In that case, you could include things like plastic toy sports equipment, baby athletic shoes, and a baby-sized jersey with the parent's favorite team.
If the baby is a girl, you might consider a princess theme. Some cute gifts to include with this diaper cake would be plastic fairy wands, lacy booties, and ribbon hair bands. Or, shape the diapers into the form of a castle!
If the baby is born around Christmas, you could use a Christmas theme and decorate the diaper cake with keepsake ornaments, holiday themed baby clothing, and other Christmas mementos — like silk poinsettias.
These are just a few of the many ideas for themes and gifts that you could incorporate into a diaper cake.
Here's a diaper cake photo gallery featuring lots more fun ideas!
How To Make A Diaper Cake
Following are some tutorials that will be helpful when assembling your first diaper cake.
I especially like the ones that not only tell you how to do it, but also show you how to do it — with lots of photos. As someone who is visual, this makes a big difference. You can tell me how to do something all you want, but if I can't see it, it doesn't help me much.  
Where To Order Diaper Cakes
If you don't have the time to make your own diaper cake, here are a few places that make and deliver them:
My favorite things to write about are topics that have to do with pregnancy, weddings, saving money, living green, and life with dogs. When I'm not writing, I love to spend time with my husband, read, create 3D artwork and Native American beadwork.