This post may contain affiliate links. If you buy thru these links, we may earn a commission at no additional cost to you.
---
I'm trying my best to resist the urge to have every baby item imaginable.
There is already evidence of a baby taking over all the nooks and crannies of our home — and our little one is only 7 months old!
As a new mom, I look for baby items to serve multiple uses. This is why I love our Bumbo Multi Seat.
We use the Bumbo baby seat quite a bit.
It was another great baby shower gift we received and has been one of our favorite baby items.
The Bumbo Multi Seat has been very helpful in developing our baby's core strength — because we used it as another baby activity on the floor while he was learning to sit up on his own.
He is obviously sitting on his own now, and the Bumbo chair serves as a great place to sit baby if we are preparing a meal at the kitchen counter or sitting at the table. I can even do some computer work or eat a meal while he plays in the seat within my reach.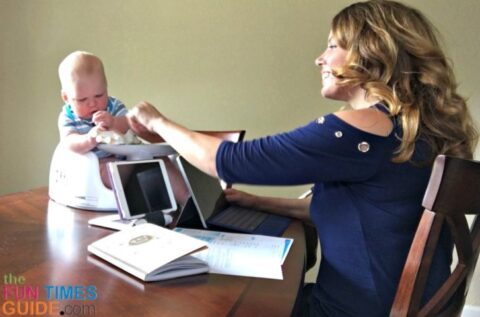 We love the multifunctional use of the Bumbo seat because it will easily convert from a floor seat to a booster seat — maximizing its use for as long as baby will fit in it!
The Bumbo chair has a great safety feature, too. You can use the attached, storable straps to secure the Bumbo baby seat to any chair. This also eliminates our need for an additional high chair at this stage. The Bumbo also has the waist strap to keep baby secure.
The handy tray attaches easily to the front of the Bumbo seat with a simple click — it's fully removable, too. When not in use, the tray attaches to the back of the chair for convenient storage.
We added Gwen the Giraffe (one of the many Bumbo suction toys) for baby's additional entertainment while seated in the chair. It suctions directly onto the tray and stays within baby's reach at all times.
When baby outgrows the Bumbo seat's foam pad cushion, it stores easily below and inside the seat.
Plus there's a 1-inch height adjustment with the base — to accommodate your baby at different stages.
The Bumbo Multi Seat is one of those great baby items that makes an awesome baby shower gift. We've used it for several months now — and continue to use it daily.
My baby has not started solid food yet, but I'm pretty sure his first bites will be in his Bumbo chair!
Here's my video review of the Bumbo baby seat with a few more things I like about it. Plus, you can "see" some of the features that I've mentioned above:
Bumbo Multi seat product review
I'm a new mom. I work from home and I write — mostly about my outdoor adventures, DIY projects, newly discovered products, and helpful tips as a first-time mom. I also like to share details about the alternative choices I'm exploring as I enjoy this journey called motherhood. My family includes a toddler, 2 stepchildren, 1 dog, 1 cat, and a wonderful husband. My pre-pregnancy life was full of freedom and adventure, so I have a fresh new perspective when it comes to walking away from a career to become a full time stay-at-home Mama.