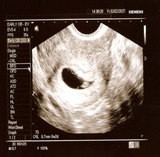 You're only a couple of months pregnant, but you already have a journal full of memories (and a pile of photos to scrapbook)!
Documenting this birth is gonna get overwhelming — FAST.
Why not start a pregnancy and baby blog? It's easy, cheap, and paper-free.
Here's how you can start your baby's blog in less than an hour…
Trust me — once you get the hang of blogging, you'll be kissing those piles goodbye!
Blogging is SO much easier than scrapbooking!
And the digital product lasts forever.
Check out 8 Trendy Baby Blogging Tools Compared.
Starting Your Baby's Website
Begin by choosing which FREE blogging service you'll use. I recommend Blogger or WordPress.
When you sign up, you'll choose a permanent web address. Make it something easy to remember, because there will be a .blogspot.com or .wordpress.com tacked onto the end.
If you'd like to buy your baby's domain name, use GoDaddy.com. Sidestep the hosting plan, and have your domain (mybaby.com) forwarded to your blog address (mybaby.blogspot.com) instead.
Designing Your Baby's Website
Now that you're registered, the decorating fun begins! Both WordPress and Blogger give you a choice of backgrounds. Customize the colors and fonts.
If you don't like what you see, choose the plain white background. You'll be adding lots of color with baby photos! Both services will shrink a selected photo for the header, too.
Thinking About Privacy
Before you write your first post, you need to make some privacy policies. Both WordPress and Blogger let you set a blog to "private" — meaning only you and the people you invite can see it.
If you keep your baby blog public, you'll want to decide a few key issues:
Will we use the baby's real name or an initial? How about the last name?

Will we mention specific city or neighborhood locations?

Will we set limits on the photos, ie never showing baby in the bathtub?
How To Write Your Baby Blog
Just like a journal, your entries will be shown in chronological order.
Your first post can pick up whenever you want — you can even back date posts to record the very beginning! A short introduction about your family is great.
Photos make the baby blog! In fact, some baby blogs are just that–photos, with minimal text.
Both Blogger and WordPress let you upload photos directly from your computer to the blog. If both families check often, you can save a fortune on professional printing.
Good photos for your baby blog:
the two of you on the vacation that started it all

the positive pregnancy test

a scanned image of the first ultrasound

progressive "baby belly" shots
Live Blogging Labor?!?
Don't laugh — some bloggers have done it! From what I hear, their faraway families have been glued to the screen for updates all day long. You'll need to make sure your hospital has Wi-Fi, though!
Even if you don't live blog labor, your baby blog is the best, fastest place to show off your new baby to the world.