This post may contain affiliate links. If you buy thru these links, we may earn a commission at no additional cost to you.
---
My mom and dad bought my son a very fancy and expensive ride on Jeep for his first birthday last year from Big Toys Green Country.
At first he was slightly curious. But then he would start to cry if we ever tried operating it using the parental control remote while he was in it.
So this fancy Jeep ride-on toy made its way to the basement, where it sat and collected dust for about a year. We tried to re-introduce it to him time after time, but he remained completely uninterested… until now!
While working in our walkout basement garage, my son climbed in the Big Toys Green Country Jeep and told me he was ready to go for a ride (in a language only a mother can understand who spends every day with her 2-year-old).
I busted out the remote from under the hood, started up the Jeep, and away we rode. He acted as if he had been riding in the Jeep for the entire year it sat there unused — and now he wants to ride it every time we're playing in the yard!
I thought now would be the perfect time to give an honest review of this fancy, expensive, remote control ride-on Jeep…
The Pros: Things We Like
Here are some of the features that we absolutely love about this Jeep ride-on toy:
#1 – The Big Toys Green Country Jeep has rugged 14-inch rubberish foam tires — not plastic tires. (The website says rubber tires, but my husband thinks it's more like a heavy foam because there's no air in them.)

#2 – We got the 2WD version, but there is also a 4WD option. The body of the Jeep has 9 inches of ground clearance and an actual working 4-point suspension.
#3 – The Jeep itself has great styling and scale detail — which allows my son to imagine he's driving the real thing.
#4 – The interior has a luxurious extra-wide 16-inch leather seat with a 5-point harness seat belt.

#5 – The dash has backlighting and a push-start button with start up sounds!

#6 – There's a mock radio with AUX/MP3 input — so we can play our own music. The radio comes with some preset built-in kids music and stories. The steering wheel has a button to control the presets and the horn.

#7 – There's a direction shifter with forward & reverse and 3 speeds to choose from (varying 2 to 5 miles per hour).
#8 – The Big Toys Green Country Jeep has tube style doors that open and close with magnetic latches.

#9 – There is a slide-out, built-in handle on the rear bumper — for easy manual maneuvering of the Jeep.

#10 – This ride-on Jeep has cool LED headlights with Halo light rings, running lights, and tail lights operated by a toggle switch on the dash.

#11 – There is a large, rechargeable 12V battery with a wall charger. But we upgraded to a smart trickle charger — to ensure safe charging of the battery, in case we forget to unplug it for a few days.
#12 – The approximate running time is 45 to 95 minutes — although we've never had a driving session last that long, due to my son's attention span at the age of 2.
#13 – The parental remote control on the Big Toys Green Country Jeep is super important to me.
Here's why:
It has a fail-safe — meaning the vehicle will come to a complete stop, if it loses connection with the remote.
There is also a super-important emergency stop button that allows me to "apply the brakes" (completely stop the Jeep) if my son starts driving into a hazard beyond his comprehension.
As a 2-year-old, my son can't maneuver the Jeep by himself just yet (although he does once in a while) — so I get to join in on the fun in the meantime, by deciding mostly where he is riding to. So I'm basically controlling the speed and direction of a giant remote control car with my son in it. (The remote control has these features: Forward, Reverse, Left, Right, Speed and Brake/Stop.
One day, my son will drive the Jeep all on his own. I really like that it is dual function in that regard.
The Cons: Things We Don't Like
Here's where this expensive, fancy ride-on Jeep from Big Toys Green Country falls short…
Our Jeep seems to lose immense power on any sort of incline — which is basically the majority of our backyard.
I wrote the company and sent them a video (to rule out a potential defect). This was their response:
From your video it appears the toy is operating properly. It will slow down just a bit when going over a hill — especially a grassy hill — as grass is very resistant and this is the equivalent of riding a bike as a kid. Pedaling on pavement or gravel/dirt is easy, but the moment your bike tires touch grass it gets much harder to pedal — and I don't know anybody able to pedal a bike up a grassy hill personally. This toy can handle hills just fine, maybe not the same sized hill covered in grass as a smooth, hard-surfaced hill — but it will handle the grassy hill all the same. The toy will slow just a little driving up a hill or even on grass rather than driving on pavement or dirt just due to the additional resistance on the motors. And if the toy cannot handle a hill in the highest speed setting on the remote, it will shut itself off as a precaution to prevent damage to the toy itself. If this happens, the toy will reset in roughly 5-10 seconds and power back on. This toy has a breaker fuse attached to the battery and this fuse's job is to shut off the toy if under too much strain or if it generates too much heat — just to make sure nothing bad happens to the product and so parts are not damaged by the heat/strain on the motors. ~Big Toys Green Country
My husband and I are Harley people — so, of course, we always want our machines to go faster. Although this ride-on Jeep allows for some other forms of customization, I think the main circuit board limits any speed modification.
In fairness, I'm sure Big Toys Green Country wants the kids who are riding their products to be safe — so I'm probably a little more accepting of their answer, compared to my husband.
I think the speed of this Jeep ride-on toy is just fine on smooth and flat surfaces.
The Big Toys Green Country Jeep also has a safe start — which starts out slow and builds up the speed gradually. My husband doesn't care for this feature, but I think it's safer than the immediate fast start that's found on most Power Wheels ride-ons.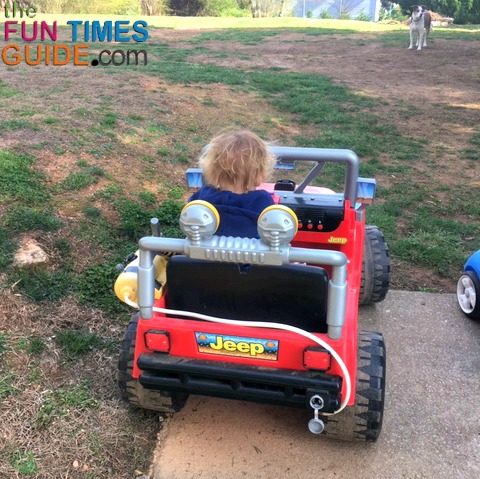 The Bottom Line
In general, we have had a pretty good experience with our Big Toys Green Country Jeep!
It shipped right away, and the shipping was free (or at least included in the price).
We had a cosmetic issue with the chrome flaking on the wheel covers when my husband first assembled this Jeep ride-on toy. Big Toys Green Country sent us a replacement wheel cover right away.
My husband said assembly was cumbersome — but he didn't realize that they had an assembly video. (They also provide YouTube videos for other things — like how to pair the remote.)
Exclusive Big Toys Green Country products come standard with lifetime tech support — which has been very responsive in addressing our questions.
They carry replacement parts for all of their toys in stock (for their customers only), and there is a 1-year warranty on parts included in their products — excluding batteries, tires, and chargers.
We pride ourselves in customer service and try our best to guarantee that you are happy with your purchase. This is what separates us, from the "other guys". ~Big Toys Green Country
Overall, I'm satisfied with this ride-on Jeep, because safety is my main concern for my son. I think the unit is quite nice, and my son really seems to enjoy riding in it. Plus, it's yet another fun activity for us to enjoy while being outside!
Here is our video review — so you can see each of the points I've mentioned above in action:
Big Toys Green Country Ride On Crawler Jeep Product Review
I'm a new mom. I work from home and I write — mostly about my outdoor adventures, DIY projects, newly discovered products, and helpful tips as a first-time mom. I also like to share details about the alternative choices I'm exploring as I enjoy this journey called motherhood. My family includes a toddler, 2 stepchildren, 1 dog, 1 cat, and a wonderful husband. My pre-pregnancy life was full of freedom and adventure, so I have a fresh new perspective when it comes to walking away from a career to become a full time stay-at-home Mama.