This post may contain affiliate links. If you buy thru these links, we may earn a commission at no additional cost to you.
---
I'm a first time mom, and I can speak from experience how easy it is to get carried away with all the extra stuff you think you're gonna need before baby arrives.
Thankfully, I have a sister-in-law who has 4 children. So, needless to say, she was very helpful in pointing me in the right direction for "all things baby".
When it comes to baby monitors, as a new parent you can expect to spend anywhere from $25 to $250 or more — depending on exactly what you want to monitor.
My sister-in-law shared a little known secret baby monitor app called the Cloud Baby Monitor.
Basically, if you have a couple of devices (such as an iPhone, iPad, iPod Touch, Mac computer, Apple TV, Apple Watch), you can turn them into a reliable and affordable baby monitor.
Here's how you can make your own DIY baby monitor for only $3.99 using a combination of 2 or more Apple devices and a cloud-based baby monitor app.
DIY Baby Monitor Tutorial
This is how I made my own WiFi baby monitor using my iPhone, an iPad Mini, and a $3.99 baby monitor app:
#1 – Decide which devices you want to use. One device needs to have a camera & microphone and will stay with baby. I use my iPad Mini with a Prepara tablet stand. It holds the iPad at a perfect angle when monitoring baby.
#2 – Visit the App Store and download Cloud Baby Monitor to both Apple devices you will be using.
#3 –  Open the app and select "child unit" on the device that will monitor your baby.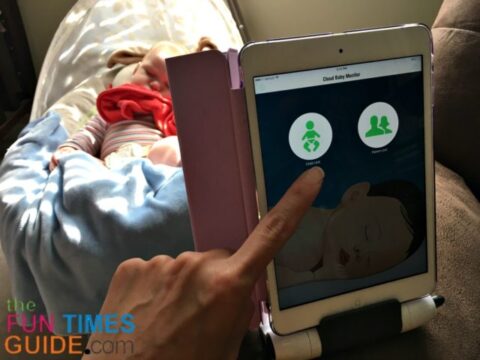 #4 – Open the app on your other device and select "parent unit" for the device that you will watch from another room.
#5 – Select the device you want to sync to. (iPad in our case.)
#6 – Make sure you have the "child unit" device in a good monitoring position and that your live video and audio feed is working.
#7 – Go about your day worry free, while tuning in as you wish. You can watch live video of your baby with audio on your other device from another room in the house or outside.
It's really quite simple and easy to use!
I love how it works with the devices we already have and that it doesn't require any extra equipment.
Using our existing devices means that we have a portable baby monitor anywhere we go — including vacation!
This Cloud Baby Monitor offers so many great features, but here are a few that I love:
It works with your home WiFi network, 3G, LTE, or any WiFi network. It also works over Bluetooth if you don't have coverage.
You can watch and listen to your baby with live video and clear audio.
The app notifies you with noise and motion alerts any time your baby moves or makes noise.
You can play your baby built-in lullabies and white noises. You can also create your own playlists from your iTunes Library.
You can watch your baby sleeping at night or in a dark room.
You can talk to your baby from anywhere you're monitoring your baby.
The app notifies you when either device battery gets low.
Here's my YouTube video explaining how I set mine up:
I'm a new mom. I work from home and I write — mostly about my outdoor adventures, DIY projects, newly discovered products, and helpful tips as a first-time mom. I also like to share details about the alternative choices I'm exploring as I enjoy this journey called motherhood. My family includes a toddler, 2 stepchildren, 1 dog, 1 cat, and a wonderful husband. My pre-pregnancy life was full of freedom and adventure, so I have a fresh new perspective when it comes to walking away from a career to become a full time stay-at-home Mama.