This post may contain affiliate links. If you buy thru these links, we may earn a commission at no additional cost to you.
---
Research tells us that it's never too early to read to your baby.
Here's a short clip of me reading to my very engaged baby when he was just 3 months of age:
Never to early to read to your baby
Studies show that children who were read to at infancy and beyond know more words by the age of 2 and are usually better prepared for when it comes time to reading on their own.
Reading During Pregnancy
I would read anything aloud during my pregnancy — because they say babies can hear in the womb.
Once your baby reaches 23 weeks, she'll be able to hear your voice and other sounds, and may even respond to what she hears by moving around more. Source
While I was pregnant, I dreamed of the days I could cuddle with my baby and read to him.
I imagined how reading would be our special time with a chance to be close and get lost in another book adventure together.
Reading Books To A Newborn
After we brought our baby home from the hospital, I would spend what seemed like days in the nursery — because he would have these days of cluster feeding during various growth spurts.
I would be basically nursing him for hours on end, and it was easy to feel isolated on those cluster feed days — confined to the house with baby attached to my breast.
I realized quickly that I could get caught up on reading the books I could never find the time for and make the most of my cluster feed confinement.
I would read books of my choice aloud — knowing he didn't understand the words. He seemed to enjoy listening to the sound of my voice.
When I had his attention (and for moments at a time), I would cuddle with him and read a variety of Disney books that I had acquired while I was pregnant.
Why I Like Reading To My Baby
It was important to me to start establishing the love for books with my child as quickly as I could.
There is something so special about reading a book and allowing your mind to see, hear, and taste the author's vision from their words on paper.
I want my baby to learn to think for himself and eventually articulate his thoughts. As he gets a little more independent, I would love for him to turn to books for entertainment rather than the television or a piece of smart technology.
If I can instill the love of reading in him, he will have the most important skill to get him through school and all the way through life!
How To Get Free Baby Books Every Month
l learned how I could get free books to start building my baby's library through Dolly Parton's Imagination Library (yes, the world famous country singer).
Dolly's Imagination Library prides itself on the gift of books, no matter what the family income is. It was Dolly's wish to share the love of reading — a vision inspired by her dad who couldn't read or write.
The program continues to grow and is available in most areas in the U.S. and Canada, as well as Great Britain and Australia. They have gifted over 90 million books to date!
After you register your child with Dolly's Imagination Library, you'll receive a carefully selected age-appropriate book each month for FREE — until your child reaches 5 years of age. (That's a lot of free books!)
You can register your baby as soon as they are born.
We received our baby's first book in the mail (addressed to him) about 6 weeks after registering. We've received a new book every month since then.
He will receive 60 free books during the course of his program eligibility! We like to share the joy each time he receives a new book on social media using the hashtag #dollyslibrary.
How To Build Your Child's Library Of Books
As our baby grows and develops interests, we will continue to build his library.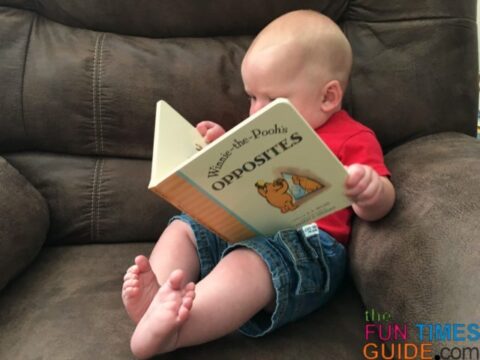 This is how we plan to do it:
Dolly Parton's Imagination Library sends him 1 FREE book each month.
Craigslist is a way to find a great deal on books that families have outgrown.
Garage sales will sometimes have boxes of children's books for loose change.
Membership at the local library and check out books as our baby's interests arise. We'll decide which books to purchase from there — because some books are are only good for one read through.
Support writers and purchase books which appeal to our child's interests as he grows. We like to buy books on Amazon prime and have them shipped to our door.
Ask for books as gifts when friends and family members are looking for suggestions for an upcoming birthday or Christmas gift.
Our baby is growing so fast, and I make sure to carve a little time out of each busy day with some sort of reading.
At 5 months old, he:
is already captivated by the pictures
likes to babble along with my voice
appears to enjoy storytime very much
Dolly Parton's Imagination Library
One day soon, he will be going to the mailbox to retrieve his new book with excitement — because I'll teach him that reading is fun and not a chore.
I'm a new mom. I work from home and I write — mostly about my outdoor adventures, DIY projects, newly discovered products, and helpful tips as a first-time mom. I also like to share details about the alternative choices I'm exploring as I enjoy this journey called motherhood. My family includes a toddler, 2 stepchildren, 1 dog, 1 cat, and a wonderful husband. My pre-pregnancy life was full of freedom and adventure, so I have a fresh new perspective when it comes to walking away from a career to become a full time stay-at-home Mama.