This post may contain affiliate links. If you buy thru these links, we may earn a commission at no additional cost to you.
---
As a first time mom, I was simply overwhelmed with the endless amount of baby items to choose from.
I was so confused by what I would need exactly to entertain a tiny human.
Now that I'm in the thick of it with a 5-month-old baby boy, I am absolutely confident in the fact that every mom would benefit from a baby exercise saucer / baby activity center of some kind.
There are several to choose from. You may have heard of these:
And the list goes on…
Lucky for me, my guesswork was done for me when I received the Oball Bounce O Bunch Activity Center as one of my baby shower gifts!
I'm going to share with you my firsthand experience using it in our everyday life.
The truth is the Oball baby activity center has become an item we simply wouldn't want to be without — as well as an absolute sanity savior!
Why Having A Baby Activity Center ROCKS!
In our household, we refer to the Oball Bounce O Bunch Activity Center as the "neglecto-saucer" — because there are times we jokingly need to neglect the baby when he is awake or won't nap while we've planned to get some stuff done.
I use the Oball activity center every single day — no joke.
It gives me an additional safe place to put my baby other than his crib, Fisher Price swing, playmat, or in the tub. (I will put my baby on a change pad in a dry tub for diaper free time.)
When I put baby in the Oball exersaucer, I know he can entertain himself safely while I do housework, answer an email, pay bills, or anything else I need to take care of at that moment while he's awake.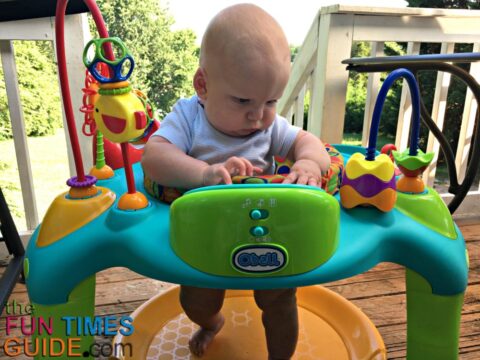 I love the fact I can move the baby activity center from room to room as needed — with baby seated in it. It makes transitioning to different tasks really easy, while still being able to keep my baby within eyesight at all times.
While I'm going about my tasks, I'm still tuned in to what he's doing and I like to give a shout out to baby and keep encouraging his playtime. I'll say stuff like "Oh, I really like that song!" when he hits a button on the piano station playing a melody.
Baby's First Days Using The Oball Exersaucer
Although a newborn won't be able to use a baby activity center right away, you'll be surprised how fast the day comes when you'll be considering putting your baby in the baby exersaucer seat for the first time.
My baby boy was a pretty big baby — so we started him in this Oball Baby Activity Center when he was just over 3 months.
Oball recommends your baby be at least 4 months of age, or at least be able to sit up unassisted.
The first day we tried it, he was fairly inactive in it — but it was absolutely amazing watching him develop the skills to start doing some of the activities within a few days. Babies are very quick learners, and the developmental progress is so fun to watch!
I like that the time my baby spends in his Oball exersaucer gives him a supported, almost-standing position to explore — rather than being stuck on his back.
Unique Features I Love
The Oball Bounce O Bunch Activity Center has several activities for your baby to play with and develop skills, including:
An electronic piano station that lights up with various sounds and jingles — there's a switch for volume settings and a switch for different sounds and jingles.
2 different stacker games.
A flexible ball that spins, lights up, and makes noise with beads which rattle inside the clear axle when spun.
A popper with spinning beads.
A cute little lion face with a neat coil texture.
The activities have bright colors, fun shapes, and interactive toys that are easy for a baby touch.
As a bonus, the roller ball and piano station are removable for when he gets older!
The Oball activity center has a bounce pad supported by 3 big elastics hooked onto the saucer legs. It gives your baby plenty of bouncing action — working out those baby leg muscles, but also keeping the feet off the floor.
TIP: There are 3 positions for the bounce pad that are super easy to adjust to your baby — simply by raising or lowering the bounce pad via the elastics and hooks.
The seat rotates a full 360 degrees — so your baby can move on to a different activity easily.
The fabric seat itself is removable and washable — which is great because babies can be messy! In fact, all of the surfaces can be wiped clean with a damp cloth.
The Oball Bounce O Bunch Activity Center dissembles for easy storage or for use when traveling. We recently went on vacation, and we brought the neglecto saucer with us — because we really do use it every single day!
2 Things I'm Not So Crazy About
There are only 2 downsides to the Oball baby activity center:
Because it's so sturdy, it is also very bulky. It weighs 13 lbs. and it takes up a lot of space — even when you break it down.
The activities remain the same and do not switch out like some other activity centers. Some babies may get bored with the same activities faster than others.
Overall, I highly recommend the Oball Bounce O Bunch Activity Center to any new mom.
Oball Bounce a Bunch Activity Center
It also makes a great baby shower gift for any expecting mamas you need a gift for. Trust me, that new mom will always think of you and thank you for this little piece of sanity! (I know I certainly think of the person who gifted the Oball baby activity center to us, and I thank them again every chance I get.)
I'm a new mom. I work from home and I write — mostly about my outdoor adventures, DIY projects, newly discovered products, and helpful tips as a first-time mom. I also like to share details about the alternative choices I'm exploring as I enjoy this journey called motherhood. My family includes a toddler, 2 stepchildren, 1 dog, 1 cat, and a wonderful husband. My pre-pregnancy life was full of freedom and adventure, so I have a fresh new perspective when it comes to walking away from a career to become a full time stay-at-home Mama.