This post may contain affiliate links. If you buy thru these links, we may earn a commission at no additional cost to you.
---
My baby is almost 1 year old, and our family hosted a baby shower for us almost a year ago.
I wanted something fun and personalized to hang on the front door of the party venue.
I love to make wreaths — so with a quick search on Pinterest, I was inspired with countless ideas on how to make a baby shower diaper wreath.
I knew that I could actually use the diapers after the baby shower, but the diaper wreath turned out so cute it's still hanging in our baby nursery!
As time goes by, there will come a time to pass this diaper wreath on to someone new having a baby.
I had a lot of fun making this baby shower diaper wreath.
Here's how I did it…
Materials Used:
Wire wreath
Tulle (or ribbon)
Disposable diapers
Baby shoes
Fake flowers
Decorative ornament
Acrylic paint
Paint brush
Wood letters (to spell out baby's name)
Scissors
Zip ties
DIY Instructions:
Pre-paint the wood letters if you want to incorporate them into the baby diaper wreath. (I used 5-inch wood letters from Hobby Lobby and painted them light blue.)
I used a 20-inch plain metal wreath. (Wreath size depends on the number of diapers used.)
Cut the 6″ tulle into 12-inch strips — so you can tie each diaper onto the wreath. (I used 6″ turquoise matte tulle from Hobby Lobby.)
Attach the first diaper by opening and placing the metal wreath inside and then tying the diaper closed to the outside of the wreath.
Keep going until all of the metal on the wreath is covered with tied diapers. (I used 1 package of 36 count Seventh Generation newborn diapers — because they have really cute patterns.)
Weave tulle (or ribbon) throughout the perimeter of the diapers. (I used 3″ silver and white confetti tulle from Hobby Lobby.)
Center the wood letters on the bottom of the diaper wreath, then secure and tie them into place with tulle.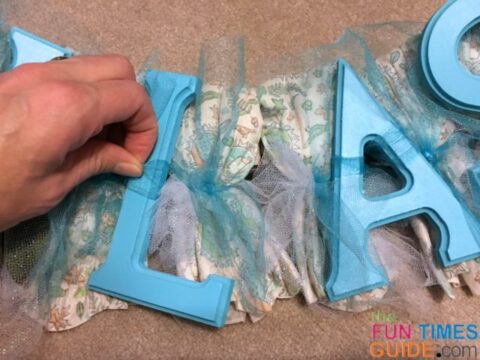 Place flowers and leaves around the letters — secure them to the metal part of the wreath frame with zip ties. (I love tulips, so I used blue tulips that I found at Hobby Lobby.)
Place the baby shoes on the baby diaper wreath and secure them into place with more tulle. (I used leather handmade shoes that were made by a friend as a gift for my baby.)
Tie a big bow and place it in the center of the baby diaper wreath. (I combined both colors of tulle when making the bow.)
Add a decorative baby ornament — so that it dangles freely from the bow. (I used a cute baby boy cake ornament.)
The baby shower diaper wreath is a great baby gift for these reasons:
It provides fun decor for the party.
It includes the gift of diapers for the baby.
The wood letters can be repurposed and used in the baby's nursery.
The metal wreath can be used as a base for another wreath later — when the new mom feels like being creative.
I'm a new mom. I work from home and I write — mostly about my outdoor adventures, DIY projects, newly discovered products, and helpful tips as a first-time mom. I also like to share details about the alternative choices I'm exploring as I enjoy this journey called motherhood. My family includes a toddler, 2 stepchildren, 1 dog, 1 cat, and a wonderful husband. My pre-pregnancy life was full of freedom and adventure, so I have a fresh new perspective when it comes to walking away from a career to become a full time stay-at-home Mama.