This post may contain affiliate links. If you buy thru these links, we may earn a commission at no additional cost to you.
---
For some mamas, providing the best for their babies means taking the organic path — beginning in pregnancy.
Fortunately, there are lots of great holistic choices these days — from all-natural pregnancy vitamins to a wide range of other organic pregnancy products.
Whether you have issues with regular (traditional) pregnancy products or not, there's just something special about wanting to protect your baby's health and pureness from conception to birth.
If you decide that this is the path you want to take, I've got some great suggestions for you… that helped me when I was pregnant and looking for organic pregnancy products on a budget.
My Tips For A Healthy, Organic Pregnancy
#1 – Choose safe ingredients.
There are many products out there that claim they are organic and natural.
Some are. Some are not. In many cases, the items may have many organic ingredients in them, but they are not as natural as you think they are.
Learn the alternative names for the ingredients that are listed on the products you buy.
Then research each of them thoroughly — so you can fully understand what "natural" ingredients, and "organic" ingredients, and "holistic" ingredients really mean.
Here are some good places to start your research:
Pregnancy Skin Care - Ingredients to Avoid | Parents
#2 – Be prepared to make some adjustments.
Many natural and organic foods do not taste the same as non-organic foods.
This can be a tough thing to get used to — especially if you're experiencing pregnancy food cravings for certain things.
If you are just now making the transition to natural foods, then go slow.
If this is not your first time eating natural and organic foods, then you may not have any problems making the transition quickly and easily.
#3 – Watch for any reactions.
After years of eating certain foods and using your favorite skincare products, you should keep an eye out for any potential reactions or allergies you may develop after trying new products.
Being pregnant means you'll have different sensitivities that you normally don't have.
Eventually, you will develop preferences for certain foods, as well as health & beauty products.
#4 – Experiment often.
You can't just try a few organic items and make your decision right away as to whether you like them or not.
You'll want to try:
Many different types of organic foods from different brands to determine which ones you like the best — because not all brands taste the same.
Several types of organic skincare products, too — because they don't all feel the same or react to your skin in the same way.
Finding your favorite organic pregnancy products, foods, and personal care items is a process of trial and error.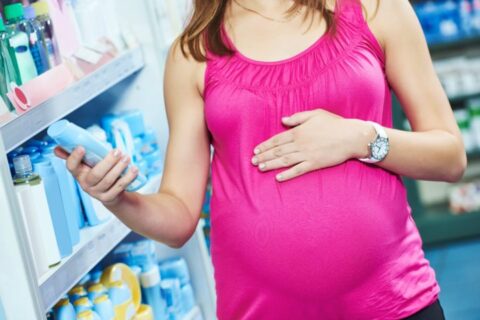 #5 – Try organic products made for babies.
Many pregnant women like to use products that are made specifically for babies. I suggest that you try them first.
Most manufacturers of baby products recognize the sensitive needs of a baby's skin and digestive system — so they don't load up their products with a ton of fillers and unnecessary ingredients.
Organic baby products are usually the purest of the pure in terms of ingredients and overall safety.
#6 – Be prepared for sticker shock.
Natural foods and organic products often cost more than other types of products — because they're produced in much smaller quantities and have greater overhead as a niche product (compared to traditional mainstream products which are made and sold in significantly larger quantities).
If you're trying to gather items for the new baby and you're on a budget, I would encourage you to:
Keep your eye out for sales on natural & organic baby products, and acquire things slowly — over time — whenever you see good prices.
Look for new products and new manufacturers to hit the market. They'll often run specials to get the word out about their newest items.
Check local papers, shopping apps, and store websites for coupons.
3 Tips for Shopping Organic ... On A Budget!
The Bottom Line…
Going organic is a wonderful thing when you're pregnant — but it does take some extra effort.
When it comes time to purchase lotions, soaps, foods, organic diapers, and other natural items… it may seem easier to continue using the products you are already familiar with instead of experimenting with new items and "wasting" money trying to find new favorites.
Personally, I struggled with this myself.
I ended up incorporating organic items into my daily regimen and diet more often than I did before I had my kids — but only when it was easy for me to do so.
As my babies have grown into toddlers, I've noticed that my thriftiness has grown as well. I still buy organic and natural products for myself and my kids — but only when I find those items on sale.
If you want to have a healthy, natural pregnancy by focusing on organic products as much as possible… then do it! Just make sure you stick to your mission and take the time to plan things out it will be easier to stick to your budget.
It's not necessarily going to be the hardest thing you'll do, but it will require a bit of effort for you to succeed at it. The rewards are well worth it though!
Here's a list of organic pregnancy must-haves for each trimester of your pregnancy.
Whole Foods Is Cheaper Than Walmart | Organic Food Challenge
Tips For Enjoying An Organic Pregnancy On A Budget
In addition to the links I've included above, here are some other resources that will be helpful on your natural pregnancy journey:
Related:
I'm a stay-at-home mom and writer. Having experienced the joys and discomforts of pregnancy 3 times, I have a lot of advice to offer expecting mothers. I'm committed to providing new moms with an in-depth and honest view on pregnancy, so you'll have a better idea of what to expect and a good feel for what pregnancy is really like.